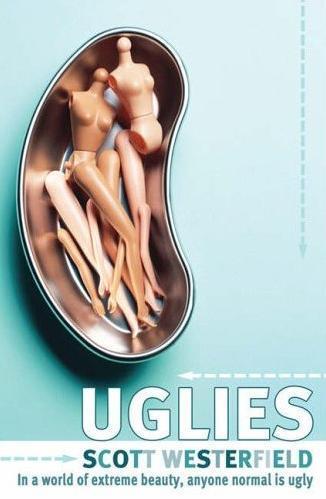 Author Info: Website | Twitter | Facebook
Publication Date: January 1, 2006
Publisher: Simon and Schuster
Source: Borrowed
Format: Paperback
Pages: 448
ISBN: 9781416911043
Tally can't wait to turn sixteen and become Pretty. Sixteen is the magic number that brings a transformation from a repellant Ugly into a stunningly attractive Pretty, and catapults you into a high-tech paradise where your only job is to have a really great time. In just a few weeks Tally will be there.

But Tally's new friend Shay isn't sure she wants to be Pretty. She'd rather risk life on the outside. When Shay runs away, Tally learns about a whole new side of the Pretty world – and it isn't very pretty. The authorities offer Tally the worst choice she can imagine: find her friend and turn her in, or never turn Pretty at all. The choice Tally makes changes her world forever.
Review
Have you ever been in a situation where a book stalks you? No? Just me? Well this is exactly what happened to me with Uglies by Scott Westerfeld. Okay, maybe not exactly but I couldn't seem to go very long without hearing great things about this book. Whenever I went in a book store, there it was staring at me. Even Amazon recommended it to me. With a life full of crazy amounts of responsibilities I just didn't have the time to read it. But Uglies just wouldn't leave me be and I eventually decided that enough was enough and picked it up with the thought "this better be good"…
Tally Youngblood will soon be sixteen and in this futuristic world, turning sixteen marks the day when she will become a Pretty. Up until this point she has lived her life as an Ugly, dreaming of the day when she will undergo the intensive cosmetic surgery which will make her Pretty. Everyone wants to be Pretty and why wouldn't they? Life being Pretty is beautiful, fun and care-free. Tally's best friend Peris is already Pretty and Tally can't wait to join him. In his absence she makes a new friend, Shay. Tally and Shay have a lot of things in common, in particular they share a birthday, but while Tally has dreamt her whole life of being a Pretty, Shay hasn't. In fact, Shay doesn't think she is Ugly at all and doesn't want the operation. Tally doesn't understand this – everyone is Ugly before they have their operation. Why would Shay want to remain Ugly forever?
You can imagine her shock when Shay tells her, just days before their birthday, that she is running away to a mysterious place called the Smoke. She makes it clear she is going with or without Tally. The last thing Tally wants to do is run away especially with just days before her dream becomes true. She refuses to go with her new friend. After all, Peris is waiting for her and her new life of being beautiful and important is finally within her reach. Shay leaves, leaving Tally a set of cryptic directions in case she changes her mind.
Although upset about her friends departure, Tally is still excited when the day of her birthday and operation arrives. Finally Tally is going to get what she has always wanted. Awaiting her operation, Tally is confused when she is taken instead to the Special Circumstances. Special Circumstances deliver the worst birthday present imaginable to Tally; find and bring back Shay or never become Pretty.
First of all, the concept of Uglies is a pretty good one. I thought it might be a bit too superficial for my usual tastes, but on the contrary, this book is so much more. Can you imagine living in a world where everyone is Pretty? On the surface that may sound great but delving deeper, is it really as perfect as you might first believe? Uglies has an underlying message that being different and unique is better than being like everyone else. You might be beautiful but if everyone else is too, how can you be your own person?
With this interesting concept also comes a fast-paced, captivating plot line. Tally is left little choice but to follow Shay's cryptic directions to the Smoke if she is ever going to be Pretty. Initially brainwashed into believing without the operation everyone is ugly, Uglies follows Tally as she begins to question her upbringing in a world that would have her believe appearance is everything. There are twists, turns and shocks along the way so it's hardly surprising I read this book pretty quickly.
Perhaps my most favourite aspect of Uglies was the world Westerfeld presented. It really does make you think; what if the world he has created actually became a reality in the future? It truly is a scary thought. I know I wouldn't like it to happen but that didn't mean I wasn't enthralled reading about it.
It was the characters however that made me feel a little bit let down by Uglies. Take protagonist Tally Youngblood for example. She is a character I'm unsure how to take. On some occasions she acted in ways I just couldn't agree with. There were times when I just wanted to shake her and tell her to get a grip of herself. But then another part of me is sympathetic towards her upbringing in this futuristic society. When you've lived your life practically brainwashed that being Pretty is your only chance of happiness, I guess I can kind of forgive her for not being particularly intelligent in some parts. It was interesting to read and wonder whether she would break free from societies hold and realise that there is more to life than appearance.
The other characters, again, I'm not sure how to take. None did anything particularly terrible so I can't dislike them. Yet, there were certain characters that I did begin to grow tired of towards the end of the book. On the flip side of this though, there were also characters I wanted to know more about, such as Tally's best friend Peris. I really hope I get to know more about him in the subsequent novels.
All in all, despite some slight reservations about the characters, I am glad that I read Uglies. I loved Westerfeld's ability to build a unique but potentially realistic world. The plot was fast-paced enough to hold my interest throughout. Oh, and there was a cliff-hanger at the end. It wasn't one of those completely annoying cliff-hangers that tend to ruin books for me. More so a teaser to pick up the next book in the series, which I will. I would recommend fans of Sci-Fi and Dystopian novels give this one a try.
Tagged with 4/5, Borrowed, Scott Westerfeld, Uglies Series